Boyfriends are a type of Glam that your character can select to be your sweetheart. They were added to the game in November 2009. You get boyfriends by purchasing them or earning them in the game. They are often modeled after celebrities.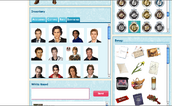 Purchasable Boyfriends
Edit
Limited Edition Boyfriends
Edit
Boyfriends from 12 BP Gala Collection Events
Edit
Feed, Event, & Mastery Boyfriends
Edit
Ad blocker interference detected!
Wikia is a free-to-use site that makes money from advertising. We have a modified experience for viewers using ad blockers

Wikia is not accessible if you've made further modifications. Remove the custom ad blocker rule(s) and the page will load as expected.